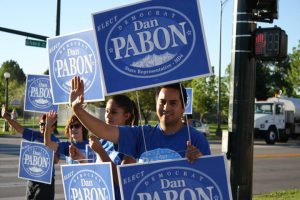 He has served on Appropriations, Finance, Judiciary, Redistricting and Amendment 64 Committees.  Currently he serves on the Finance and Business Affairs Committees and serves as Speaker Pro Tempore of the House.
Representative Pabon has been recognized as a rising star by MSNBC, received the People's Choice Legislator Award from Colorado Law Week, named a Rising Star by Colorado Super Lawyer magazine, awarded Democrat of the Year by the Denver Democratic Party, and he was invited to be a member of President Barack Obama's transition team in 2008.
Representative Pabon is a graduate of the University of Colorado, where he received his degree in mechanical engineering and later his law degree. He and his wife Heather have three children, Maria, Arica and Alec.